The Streetlight's Editorial Team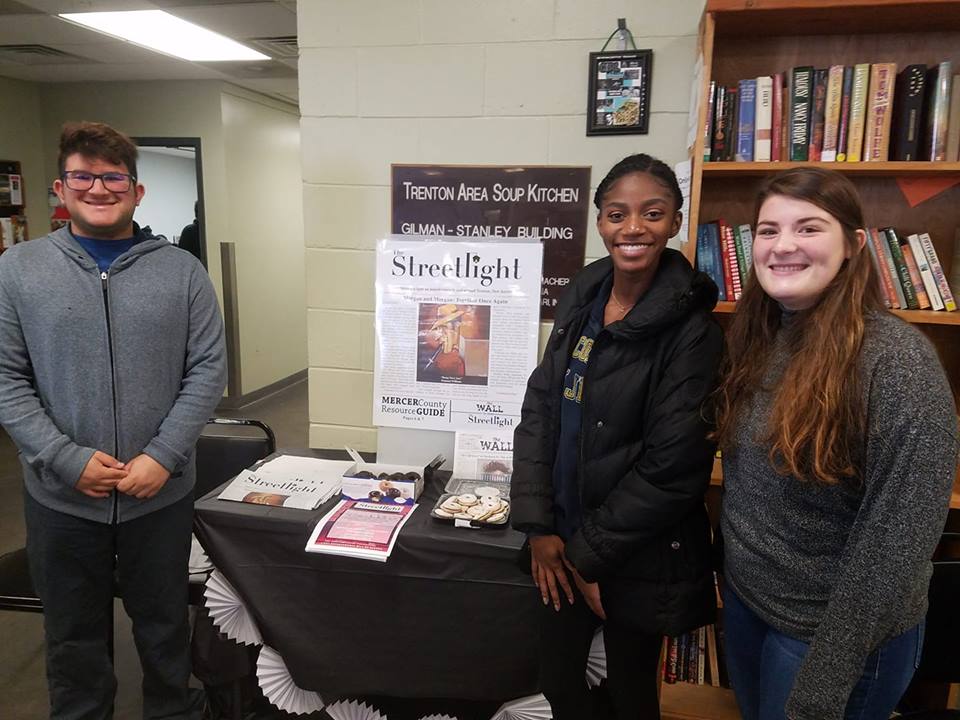 Jared Kofsky – Editor-in-Chief
Jared Kofsky is a Senior studying Communications and Public Policy at The College of New Jersey. A member of the editorial team since 2016, he previously served as Managing Editor. As the Editor-in-Chief, Jared is involved with a variety of aspects of the publication, including generating story ideas, writing investigative pieces, editing The Streetlight's website, updating the Mercer County Resource Guide, and coordinating the distribution of the print copy to over 60 sites throughout Mercer and Bucks Counties. Jared hopes to spotlight the powerful work of the organizations and individuals working to combat homelessness in the Capital Region and to make The Streetlight accessible to as many Trentonians as possible.
Contact Jared: kofskyj1@tcnj.edu
McKenna Samson – Editor
McKenna Samson is a Junior at The College of New Jersey, where she studies English. McKenna serves as an Editor on The Streetlight where she writes and reviews articles covering the stories of those experiencing homelessness and organizations willing to provide resources. She hopes to become more involved with The Streetlight and to improve her skills as a writer to be the voice of those in the Trenton and Mercer County communities.
Contact McKenna: samsonm2@tcnj.edu
Joshua Trifari – Editor
Joshua Trifari is a Junior at The College of New Jersey where he studies music and history. Joshua is passionate about the culture of local communities and understanding the causes of issues. He hopes to shed light on issues facing the Trenton community with regards to homelessness and to delve into possible solutions to these issues.
Contact Joshua: trifarj1@tcnj.edu
Hannah Keyes – Editor
Hannah Keyes is a Sophomore at The College of New Jersey where she studies Elementary Education and Psychology. Hannah has a desire to become an active and influential writer for The Streetlight, someone who is able to effectively convey the voices of those who are not always heard. She hopes to help individuals experiencing homelessness by giving them a platform to express themselves.    
Contact Hannah: keyesh1@tcnj.edu
---
Administrative Staff
Raj Manimaran
Raj Manimaran is a Community Engaged Learning coordinator at The College of New Jersey's Center for Community Engaged Learning and Research. He is a former editor of The Wall, The Streetlight's predecessor.
Contact Raj: manimar1@tcnj.edu
---
Editorial Review Board
Note: In addition to The Streetlight's staff members, the Editorial Review Board is made up of the community leaders and representatives from The College of New Jersey. For the Winter 2018-19 issue, the Editorial Review Board included:
Nina Ringer, Director of Writing, TCNJ
Karen Deaver, TCNJ Instructor
Janet Mazur, TCNJ Instructor
Kim Pearson, TCNJ Instructor
Donna Shaw, TCNJ Instructor
Frank Cirillo, Mercer Alliance to End Homelessness
Regan Mumolie, Rescue Mission of Trenton
Jamie Parker, Trenton Area Soup Kitchen
Essence B. Scott, Streetlight Columnist
---
Get Involved
Would you like to join the team? Click here to learn more!