By Noah Hasko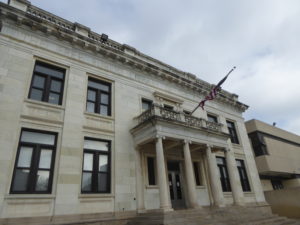 The digital divide continues to adversely impact neighborhoods throughout the city of Trenton. A number of organizations are working to address this growing problem and the Trenton Free Public Library (TFPL) is at the forefront of the movement.
The library provides respite to individuals experiencing homelessness in the daytime and access to amenities that they need. Richard Jutkiewicz, the Community Outreach Librarian at the library attested to their ongoing efforts to support city residents.
Jutkiewicz has seen the impacts of the digital divide on individuals pursuing employment opportunities. Many find it difficult to access online applications and other resources for jobs while others enter the field with little understanding of and expertise with technology, making it difficult for them to maintain and grow in their positions.
Jutkiewicz explained this reality as he has seen it: "It has been eyeopening for me to see there are families where the head of household is out of work, and are applying for a job to a company or an organization that only accepts a digital application. They don't have an email account, or had one but are not sure how to access it."
With the ongoing efforts of those at local organizations in partnership with public resources such as those at The TFPL, efforts to address the digital divide are far-reaching.
Although the Briggs, Cadwalader, East Trenton, and Skelton Branch Libraries have been closed since 2010, the main branch of the TFPL is open Monday through Thursday from 9:00A.M to 8:00 P.M and Friday and Saturday from 9:00 A.M to 5:00 P.M. The TFPL is free for all to use with the acquisition of a library card and is located at 120 Academy Street. To contact the library, go online at www.trentonlib.org or call (609) 392-7188.
---
Managing Editor's Note: The library is often closed during days with extremely high temperatures. Check with the library's social media platforms if possible before visiting.