By Josh Tobia & Andrew Nebbia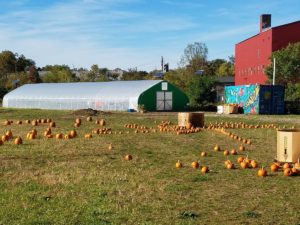 There are three supermarkets serving approximately 84,000 Trenton residents, making it difficult to access nutritious, low cost food within city limits.
On the other hand, Trenton has more than 75 bodegas that sell primarily unhealthy meals and a limited supply of fresh produce at a high cost.
This makes it increasingly difficult for city residents to maintain a well-balanced diet.
A study conducted by Rutgers University in 2010 determined that nearly half of children ages 3-18 growing up in Trenton are either overweight or obese, nearly twice the childhood obesity rate in the nation.
Rutgers attributed these statistics to the consumption of too few vegetables and too many high-energy foods.
Capital City Farm, a project of the D&R Greenway Land Trust at 301 North Clinton Avenue in Coalport, works to address this increasingly problematic reality in ways that are sustainable.
Both a profitable business and a model for urban agriculture, the farm is a beneficial addition to the community. Urban farms, like Capital City Farm, grow fresh produce and supply it to local corner stores.
After years of being a food desert, Detroit has used urban agriculture to address rather similar concerns.
The Michigan Urban Farming Initiative transformed unused land into gardens for fresh produce, which expanded businesses, provided jobs, and helped circulate healthy foods across
the city.
Capital City Farm is following a similar trajectory. Kate Mittnach envisioned a farm that would create "a place of beauty that grows food for people that need it."
It has done exactly that. John S. Watson Jr., Vice President of the D&R Greenway Land Trust, sees the farm as a "green oasis where fresh produce and flowers are grown."
Watson explained that approximately 30 percent of the greens that they produce are donated to the Trenton Area Soup Kitchen (TASK).
According to Watson, the other 70 percent of the food grown on the farm is sold to the Greenwood Avenue Farmers Market and Capital City Farmers Market in Mill Hill Park, and they are actively working to find more places to sell their product.
The farm's website advertises that plots of land on the property will be available for local citizens to rent out and use for personal gardens
Their mission, however, is to serve and thus, the farm has set up canvases in neighborhoods around the city to learn what residents want grown and supplied.
In addition to serving the local community, Watson explained that one of their goals is to "create a sustainable and replicable agricultural model that can be created in other cities around the state and the nation."
---
Capital City Farm
301 North Clinton Avenue, Trenton, NJ
(609) 924-4646