By Jared Kofsky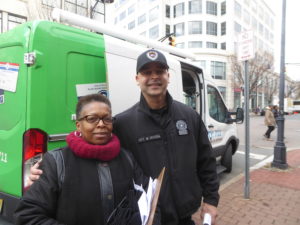 Despite its small size, Trenton is home to a large number of agencies and organizations aiming to address poverty in the capital region.  Yet despite the efforts of these organizations, homelessness continues to impact hundreds of Trentonians.
From senior citizens spending the night inside the Rescue Mission of Trenton to young adults sleeping under bridges, it is clear that there is still a long way to go before every individual experiencing homelessness in the city is housed.
For many years, despite there being a variety of stakeholders in the fight against homelessness in Trenton, representatives from each non-profit, government, and religious organization lacked a place to inform their colleagues of the progress and challenges that they were facing.
However, in the time since the City of Trenton opened its Coordinated Entry and Assessment Services (CEAS) Center at the corner of Perry and Ewing Streets, that is all beginning to change. Every month, CEAS Center Director Janet Kleckley-Porter now hosts a meeting of the CEAS Coordinated Mobile Outreach Team to discuss matters related to unsheltered individuals experiencing homelessness.
Each gathering attracts approximately a dozen officials, representing organizations like SoldierOn, Catholic Charities, and Oaks Integrated Care. During each meeting, every attendee shares how many families the group that they represent were able to find housing for that month, and information is released about upcoming outreach events and housing opportunities in Trenton.
Attendees regularly discuss not only their efforts within city limits, but also how they intend to or are already addressing homelessness in the suburbs. For instance, the Men's Mission House in Ewing and the regional Point-in-Time Count effort were addressed when The Streetlight attended one of the group's meetings in December.
Other topics of discussion change based on each gathering. In December, one major subject of concern was a sudden increase of Puerto Rican families experiencing homelessness in the city who came to the mainland United States after being displaced dur- ing Hurricane Maria. Although most of these families were not believed to be unsheltered, representatives discussed how many of them could not afford their own place to stay and were going between the beds and couches of relatives and acquaintances in Trenton. Attendees discussed a need to work with these displaced families in order to provide them with housing of their own to avoid the risk of possibly not having a place to stay at all at some point.
Although homelessness is still a crisis in Trenton and cities all across the country, officials hope that by having this gathering of organizations, their efforts can be maximized and a greater number of individuals can be supported in their journey to finding and securing permanent housing.
---
City of Trenton CEAS Center
511 Perry Street, Trenton, NJ
(609) 989-3722