By Alexus Twyman
Located in Lawrenceville, New Jersey, SewingSpace is hoping to spread awareness of their mission to "empower the underprivileged" through various initiatives they host throughout the year. Originally created as an offshoot of HomeFront's ArtSpace, SewingSpace has grown into its own as a program over the years, serving local patrons and the wider Lawrenceville community.
Originally formed in 2013, SewingSpace gradually developed throughout the years, providing a host of experiences to patrons. SewingSpace has offered lifelong benefits, teaching participants multiple sewing techniques in addition to helping them develop their own skill sets.
The program has been refined over the years, with the addition of beginner and intermediate classes to address the needs of the growing number of participants. At the start of their sewing journey, participants undergo an eight week training course to learn the essentials of the craft.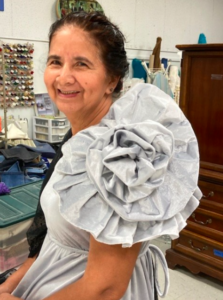 As the director of SewingSpace, Ruthann Traylor, a resident of Princeton, has overseen personal growth in many patrons over the years. She notes the "joy" in participants' expressions after accomplishing their creative goals as a motivation for continuing her work.
Originating from a small space, the program grew over one to two days, with participation in the program "unexpected" and "life changing," according to Traylor. Increased awareness of SewingSpace's work allowed for the program to obtain funding from donors and grants, which has greatly benefitted the participants' experiences.
The popularity of SewingSpace, according to Traylor, is due to the "nurturing" environment the program creates, with support from volunteers and staff members forming a "safe haven to come and create." The development of SewingSpace's program began through listening to the needs of clients, which "compelled [the program] to keep growing for the community," says Traylor. 
The effects of sewing are "equally as therapeutic as art" and "empowering" to participants, Traylor said. According to the National Library of Medicine, the effects of art therapy can go beyond simply crafting a new item. In a 2018 study, researchers uncovered art therapy's links to improved self-awareness and increased self-esteem.
Clients create a variety of bags, pillows, outfits and other items, with the ability to keep them afterwards. Traylor recognizes that "pillows can be a luxury item" for many clients at SewingSpace and encourages patrons to decide whether to keep or sell their pieces on their own terms.  
An important aspect of SewingSpace's program is to enable patrons to discover their own confidence and strength through art, creating tangible expressions of emotion. Throughout the crafting process, participants have the opportunity to sell their items if they choose, receiving a portion of the proceeds from the sale.  
Since the establishment of the program, SewingSpace has increased in scale over the years, growing from owning six sewing machines in 2013 to handling over eighteen machines today. According to Traylor, one of the highlights of managing the program has been witnessing the personal growth and  "pride of sewing students when they walk down the runway" at SewingSpace's fashion shows.
Recently, SewingSpace has begun hosting events to garner more community-wide support, such as their Saturday Summer Series and Camp Mercer Teen Sewing Program last summer. Events run by SewingSpace strengthen community bonds, alongside the program's dedication to "upcycling and recycling" materials when crafting new products, says Traylor.  
Ultimately, SewingSpace's program serves to encourage patrons to develop sewing skills and self-confidence along their journey. The program provides a safe space for self-expression through art, enabling clients to discover themselves and their passions to create art. Most of all, Traylor encourages clients to stop by SewingSpace and "come learn about us" through the program's frequent open houses, and to explore their limitless possibilities.