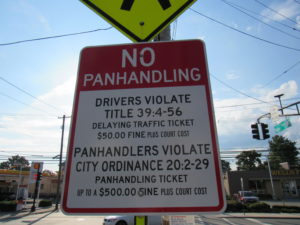 By Kristine Spike
A 2016 report from the Department of Housing and Urban Development found that an estimated 553,000 people are experiencing homelessness nationwide. Some behaviors of individuals experiencing homelessness are being criminalized is by new policies.
Newark, for example, has passed new municipal ordinance to ban panhandling within city limits. Officials with the Newark Department of Public Safety reported that in May 2019, police handed out more than 250 summonses for panhandling, which can have a maximum fine of $500.
Newark Police are also enforcing a "delaying traffic" ordinance, which prohibits drivers from stopping to give cash to those requesting it. In May, 90 summonses were issued. Tickets given for delaying traffic cost $50, plus a court fine.
Newark officials have stated that these policies have been enacted as a public safety effort. In addition, officials report that they have increased outreach efforts. For instance, Newark's 'Hope One' is a mobile police vehicle that offers Narcan kits, detoxification, rehabilitation recovery support, mental health services, and transportation to treatment facilities. Hope One also works to make identification cards accessible to those experiencing homelessness so that the individuals can obtain services such as assisted housing. Trenton does not currently have a Hope One program, though a list of community partners that perform comparable services can be found in The Streetlight's Mercer County Resource Guide.
The main concern is whether or not such panhandling policies will extend to Trenton and its surrounding areas. Currently, the short answer is no. The City of Trenton has recently revised its policy on begging and panhandling. City legislation states that "the City Council recognizes a constitutional right to beg or solicit in a peaceful and nonthreatening manner." The legislation in Trenton goes on to mention that "an increase in aggressive solicitation throughout the City has become extremely disturbing and disruptive to residents and businesses." These findings led to the passing of a new article to update and clarify the panhandling regulation. The recently passed Trenton ordinance goes on to define "aggressive", stating that following or approaching individuals at night, or near ATM machines, amongst other behaviors, all are considered to be "aggressive."
This clause reportedly serves to protect the rights of citizens, while aiming to harbor a safe environment. The City aims to keep intact constitutional rights while also reducing the "disturbance" that panhandling can cause when it takes an aggressive form. In a phone interview, New Jersey State Police Trooper Ryon Barclay stated that as it stands, there is no reason to expect change in the current panhandling laws, adding that the current policy is clearly defined and has a goal of "protection of all citizens."